THE GIVEAWAY IS CLOSED. THE RANDOM WINNER IS...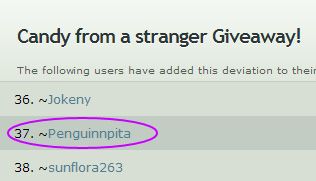 I will be sending you a note soon!
Everyone else is receiving a llama~~ yay!!
---------------

Hi guys,
I just bought some candy and thought it would be nice to give it away. It all comes from Bulk Barn Canada, everything is factory sealed but it might have come in contact with nuts, there's no way I can know that. Also I did buy some nuts at the same time but those are gone, just sayin'.
The candy bag will contain: chocolate loonies and toonies (yes that's what we call our 1 and 2 dollar coins), mini caramel chocolate bars, maple sugar candies, chocolate spiders and a dark cherry skull lollipop.
Just FAVE this journal
and you will be entered in a random draw. The draw closes on October 24th.
CLOSED.
texture by subtle patterns / skin by `miontre